Often times home office desks are either really ugly or really boring, both of which can be a major distraction from the beautiful decor the rest of your home has, and thats not ok.
So I went on a treasure hunt to find beautiful desks that would compliment your home rather than be the eyesore…
Each desk has a direct link if you are interested in checking it out and possibly purchasing it.
1. Belham Living Darby Mid Century Modern Desk 
I loved the modern look and feel of this desk, as well as the rounding of the desk edges and shelving. It would be wonderful as is with items stacked or even if you had some wicker baskets on the shelves.
2. Belham Living Carter Mid Century Modern Writing Desk
This desk is so clean looking and it perfect if you only need something small for working on things occasionally, but it is still beautiful to look at with those rounded edge drawers.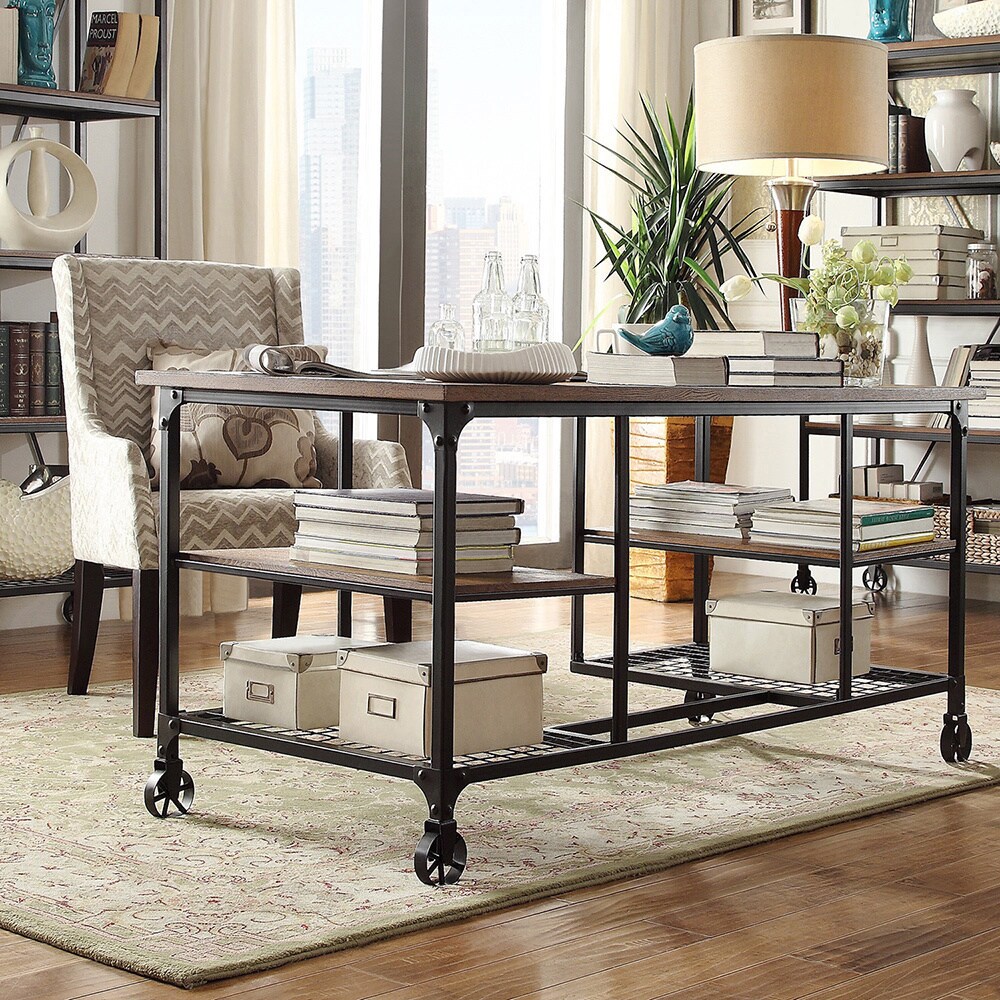 3. Nelson Industrial Modern Rustic Storage Desk by iNSPIRE Q Classic
This desk is industrial looking, but has a hint of farmhouse style with the rolling bottom wheels. I love the large amount of storage space as well!
4. Coaster Furniture Writing Desk with V-Shaped Legs
The wood coloration on this desk is absolutely beautiful. I love the simplicity and elegance of it, and the large variety of storage space is a win as well!
5. Bronwen Contemporary White Metal Wood Desk
I fell in love with the unique look and design of this desk, It has such a playful layout, and I like that the storage shelf is long and has two shelves for storage.
6. Coaster Furniture Salvaged Cabin Writing Desk with 4 drawers
The variegated wood sections as well as the simple black framing look wonderful together, this would look amazing in a beach home for sure!
7. Finley Home Gray Corner Laptop Writing Desk with Optional Reversible Hutch
All of the corner desks I've seen are ugly and outdated, this beautiful and modern corner desk would be a great and cute solution to anyone that is tight on space.
8. Martin Home Furnishings Heritage Credenza Desk with Optional Hutch
When I saw this desk the first thing I thought of was the old style library card catalogue. What a fun desk for someone that is a huge bibliophile it has such a warm feel to it and I really dig the two types of wood shades they used.
9. Classic Playtime Mini Writing Desk with Optional Bookcase – Lime
Who said adults are the only ones in need of a cute desk in their home?! How about this adorable kids desk for their homework and drawing time, I would have loved this desk as a kid!
10. Best Selling Home Killeen Computer Desk
For someone that doesn't have storage concerns and is just in need of a desk to work at, this is such a beautiful modern design that I just love!